5 Reasons to Choose Factory Second Appliances
When you shop with Go Get Appliances, you are shopping with most trusted and iconic brand in Melbourne.
We have everything you need in one convenient location, starting from dryers, washing machines, fridges ,television or more. If you're trying to save money, it is more beneficial to buy Seconds Appliances.
Go Get Appliances in Truganina VIC 3029, Australia has been in business for many years.
They are the best Factory Seconds Appliances Store
When you're looking for a bargain or just don't need something brand new, then you must buy cheap washing machines Melbourne.
Go Get Appliances is a marketplace for factory seconds appliances which is huge, and they also serve you with their online selling platforms like Facebook, Instagram and Craigslist making it easier than ever to shop around.
Selling Appliances at Facebook not only helps people to save time but also ensures guarantee and warranty for that particular appliances as well.
For more information of our Facebook page, Please refer to: 
https://www.facebook.com/Go-Get-Appliances-104998651333412/
If you want the latest technologies for a dishwasher or microwave, you're probably better off buying a new one.
Factory Seconds are basically brand new items with a mild imperfection in it. But don't worry you will get your full manufacturer's warranty as promised!
Do remember that these products are always in full working order.
So you can use your products with high-spirits.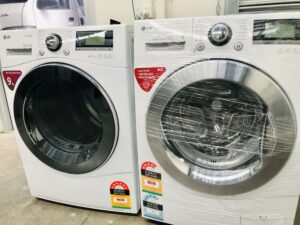 Mostly people ask: Is it a good idea to buy factory Seconds Appliances?
The answer is : It depends.
The experts at Consumer Reports can help with appliance-buying advice and the potential pitfalls to look out for when shopping the refurbished market. They says when it comes to choose from factory seconds appliances their online sites like Facebook Marketplace gives a better version and idea to choose from your Factory seconds Melbourne Store. 
If a person wishes to buy washing machine in Melbourne , visit Go Get Appliances. The best and affordable factory seconds appliances store in Melbourne.
Visiting a reputable factory refurbished appliance store will give you the best deals. You could save 50 per cent or more.  
No matter what you're shopping for, find out how old the appliance is so you can calculate how much life it has left and if it's worth the price.
Your best bets for buying are washers, dryers, fridge and refrigerators
The brand you buy often makes a difference. Data shows that some brands are more reliable than others. CR's surveys have found that LG, Bosch and Chiq earn a rating of "good" or higher for the reliability of their fridges ranges, washers and dryers.
If you find something you love, take a closer look before you buy. Plug in the machine. Look for any damage (including rust), check the buttons and knobs, do a smell check for mold and read the manual to make sure all the parts are included.
Finally, don't be afraid to negotiate. You could end up saving even more. Always find the manufacturer's sticker and check to see if the appliance has been included in a safety recall. If the machine doesn't have a model number and serial sticker in place.
We strongly believe that purchasing a factory second appliance is a great option for any household.
Go Get Appliances is a cheap appliances Melbourne We've put together 5 great reasons why you should purchase a second hand appliance – read on and enjoy!
1. The Price Range
One of the main reasons that consumers look to second hand items is the price tag. A new fridge, washing machine or dryers are expensive when compared with a second hand model, and it is very common to be able to find a second hand appliance for less than 1/3 of the cost of a brand new model. Who wouldn't want to save a fortune and still get an appliance that does the job well? Think about it!
2. Environmental-Friendly
When you buy second hand appliances, you are reducing the impact to the environment in several ways. Not only you are preventing the appliance ending up in a junkyard somewhere, you are also preventing valuable resources from being used in the production of a new model. Our team at Go Get Appliances are very supportive of reducing environmental waste, and we aim to recycle as many appliances and parts as possible to minimise the impact on the environment.
3. Your Money Stays Locally
Buying new appliances can often mean that your hard-earned dollars can flow offshore to international manufacturing firms. Purchasing second hand appliances means your dollars stay in the local economy, and benefit your community as well. It will eventually benefit each and every individual in nearby future.
4. You Can Research the Model you want Easily
When a company releases a new model of fridge, washing machine or oven, it can take a while for this product to gain a track record of it's performance. With older appliances, it can be much easier to identify the best makes and models because they have longer track records (especially in the form of online reviews). Would you rather own a brand new appliance with no idea of its lifespan, or a 2-year old appliance that you know is going to last you a long time?
Think wisely!
 5. Bigger Ranges Available
Second hand stores typically have a much bigger range of brands and models compared with retail stores selling brand new machines. It can be a lot easier to find the perfect second hand appliance for your needs with a larger range to inspect!
At Go Get Appliances Store in Melbourne, Australia -we are firm believers in the value offered by factory seconds appliances, and always have a huge range of fridges, freezers, washing machines and dryers on hand for you to inspect.
Come and visit us anytime, and see the benefits of quality second hand appliances for yourself!